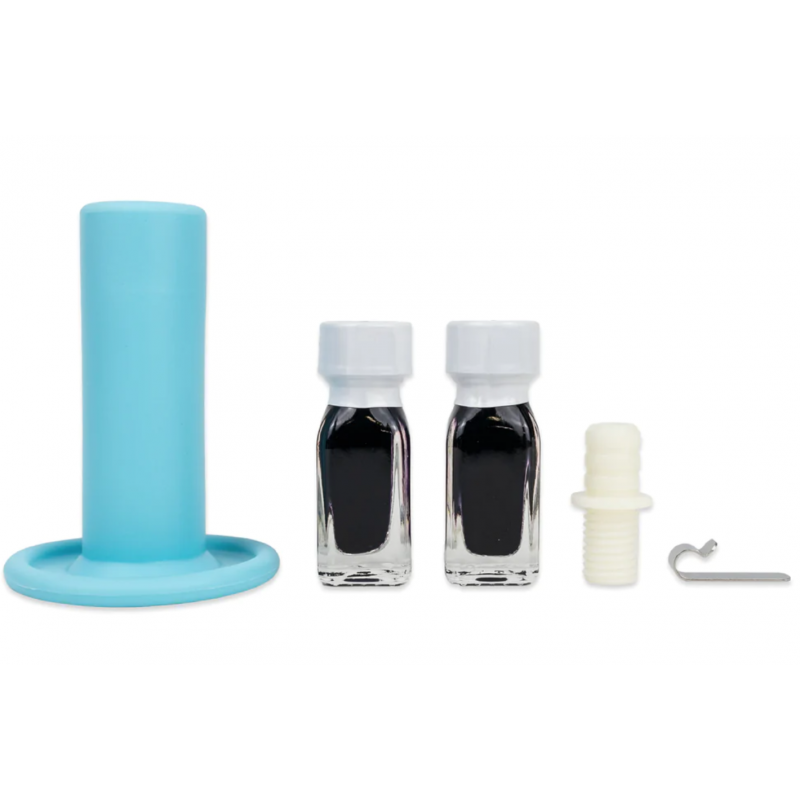  
Filter Priming Kit
The Berkey Filter Priming Kit is designed to help you prime your Berkey filters and set up your system correctly. (The kit is already included in all new Berkey systems.)
Priming the Black Berkey elements and fluoride filters with the regular beige-coloured priming button can be challenging, especially with newer kitchen faucets that have a spray attachment.  The Filter Priming Kit includes accessories that greatly facilitate the priming process which must be performed when you first receive your filters, and also when you clean your Black Berkey elements.  
The kit includes:
- Prime Rite™ Universal Primer
Designed to fit over many different types of faucets and create a water-tight seal, this stretchable silicone sleeve makes priming the Black Berkey Elements much easier.
- Prime Rite™ Fluoride Element Adaptor
Insert the Prime Rite™ Fluoride Element Adaptor into the Prime Rite™ Universal Primer  to easily prime your PF-2 fluoride and arsenic removal filters.
- Anti-Airlock Clip (Vapor Lock Clip)
In the rare cases that water does not flow well from the spigot of your Berkey system, this small clip can be placed on the lip of the lower chamber to allow more air to enter the chamber, and as such, to increase water flow coming out of the spigot.
- Red Food Dye Vials x2
After you finish setting up your Berkey system, make sure that your filters are working properly and that all seals are water tight by conducting the Red Food Colouring Test.  This test should also be performed periodically when you disassemble and reassemble your Berkey to clean the filters.  If you run out, you can also use artificial red food colouring that can be found in the baking aisle at your local grocery store.
Do You Know What's In Your Water?
Depending on where you live and where your tap water comes from, you may have some or most of these contaminants in your drinking water.
Find out how Berkey Systems can eliminate up to 99.9999% of harmful contaminants found in water.
Chlorine

Fluoride

Bacteria

Parasites

Viruses

Heavy Metals

Bad Taste & Odours

Pesticides

Pharmaceuticals

VOC's

Chemicals

Petroleum Products
RELATED PRODUCTS
BERKEY SYSTEMS