 
Travel Berkey 5.7L
Suitable for:  1-2 people
Capacity:   5.7 liters (1.5 Gallons)
Height:  45.7 cm (18")
Diameter:  19 cm (7.5")
Weight: 2.75 kgs (6.1 lbs)
Product Features
The compact Travel Berkey is ideal for daily use by 1-2 people who use water primarily for drinking, or when space is very limited.  Use for camping, in an RV or on a boat, during emergencies, or during outdoor activities when potable water may or may not be available.  
The Travel Berkey is also a great travel companion when visiting foreign countries where water quality can be questionable. Even if you are travelling by plane, the Travel Berkey measures only 7.5" in diameter and 12" when nested for transport and you can easily pack some clothes inside the Berkey to save space in your luggage.
Constructed of highly polished AISI 304 stainless steel, this system has a storage capacity of 1.5 gallons (5.7 litres) and when in use, it stands 18" (49 cm) in height with a diameter of 7.5" (19 cm).  The upper chamber nests within the lower chamber for transport and stands only 12" (30.5 cm) in height.
NOTE: Stainless steel systems must be placed on the edge of a counter, or on a stool or stand, in order to fit a glass or other container under the spigot.  You may also choose to add the optional stainless steel base to your system which raises your Berkey 5" (12.7 cm) off the counter.
The Travel Berkey comes in 2 configurations:


        2 Black Berkey elements

        2 Black Berkey elements + 2 PF-2 fluoride filters


System includes:


        Upper and lower stainless steel chambers

        Stainless steel lid with knob

        Rubber gasket to protect the base

        Plastic spigot

        2 Black Berkey elements 

        2 washers + 2 wingnuts

        1 priming button

        2 blocking plugs 


Optional accessories for this system:


        Stainless steel spigot

        7.5" Sight Glass Spigot

        Small stainless steel base

        Black Berkey Primer
Product Specifications


Suitable for: 1-2 people
Holding capacity: 1.5 gallons (5.7 litres)
Height when in use: 18" (45.7 cm)
Height for transport: 12" (30.5 cm)
Diameter: 7.5" (19 cm)
Weight when empty: 6.1 lbs (2.8 kg)


Maximum flow rate:


During emergencies, the Travel Berkey can produce a maximum flow rate of up to 2.75 gallons (10.4 liters) per hour, and as such, can meet the water needs of 30+ people a day during an emergency.

NOTE: Maximum flow rate is calculated with upper chamber full to top.  Flow rate decreases as water level declines.  To achieve maximum output during an emergency, upper chamber must be maintained full at all times.
RELATED PRODUCTS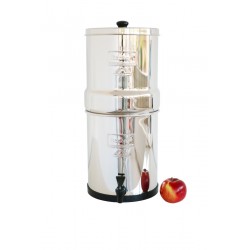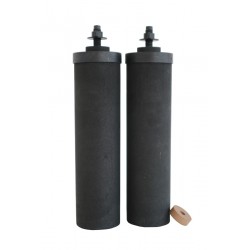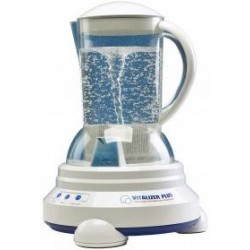 SEE ALL OUR BERKEY ACCESSORIES
BERKEY SYSTEMS